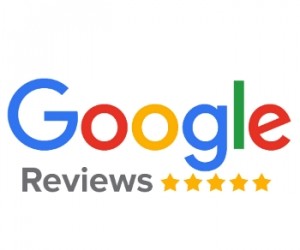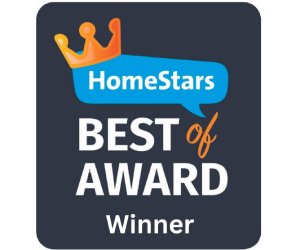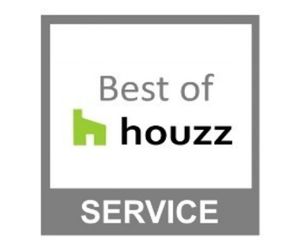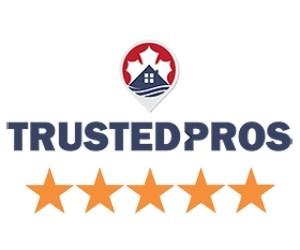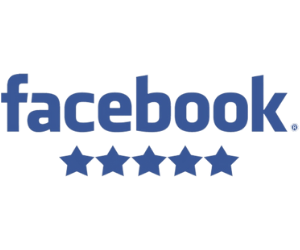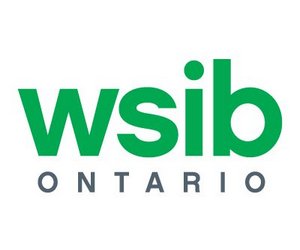 Leading Landscaping Company In Etobicoke
We Do It Best
We offer our Etobicoke clients a wide variety of outdoor landscaping solutions. Below is a list of the landscaping services we provide. For more details, please keep scrolling to Etobicoke Services.
Our services include everything from design to installation, construction and maintenance. Having over 70 years of combined experience, our landscapers can handle any landscaping needs you may have. We strive to maintain our excellent near-five-star customer reviews by keeping our services at the top of the line. Taking the time to truly understand what you want and need allows us to fulfill your project on time and within budget.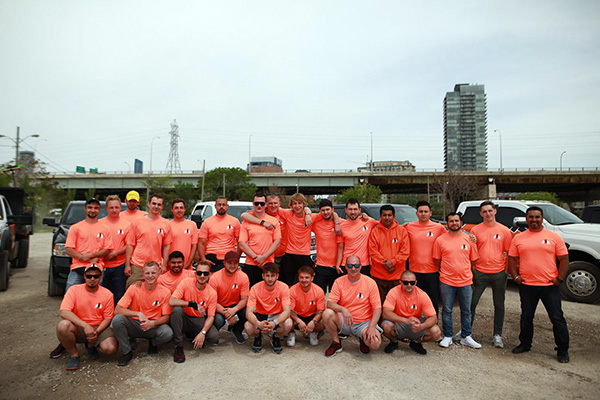 Award-Winning Landscape Company In Etobicoke
Professionalism, open communication, and exceptional results have helped our landscapers build an incredible reputation with our clients over the years.
As a company that caters to clients all across Etobicoke and the GTA, our landscapers go the extra mile to make sure that every client can access our services, regardless of their location. Offering quality and efficient client-oriented landscaping services at an affordable price, we are Etobicoke's top choice for all things landscaping.
Each client's needs are taken into account when creating customized exteriors. We understand the importance of building and maintaining a beautiful exterior that you can be proud of. We include eco-friendly and environmentally sustainable materials in our projects, as another testament to our commitment to meeting our customers' wants and needs.
As a result of our team's combined 70 years of landscaping experience, we are able to provide our customers with quality, customized landscaping services that will exceed you expectations, every time.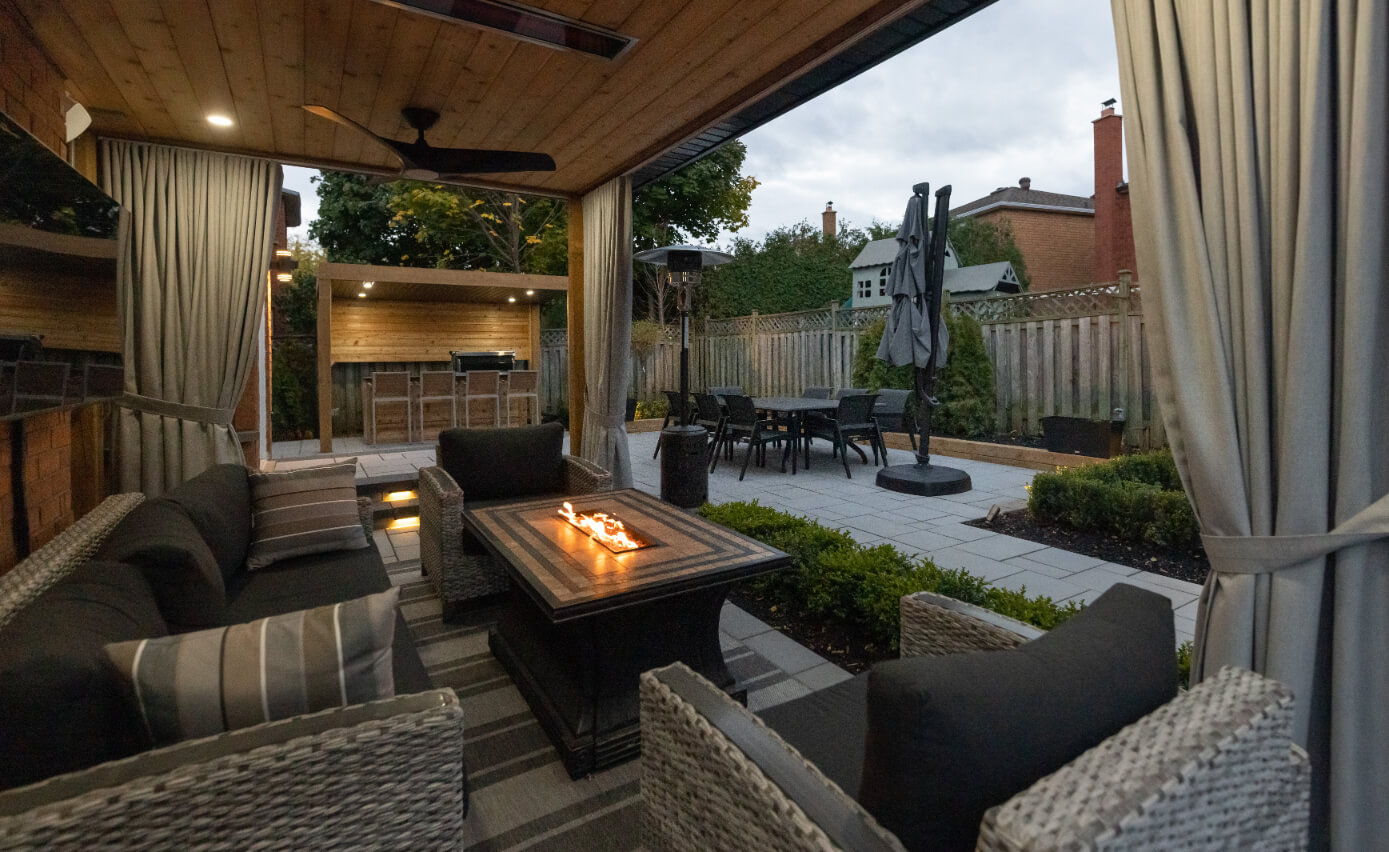 Etobicoke Landscape Process
Landscape projects can be overwhelming at times, and we understand that. We have simplified our design process into five simple steps so you can follow us along through the process:

1. Consultation
Our consultation phase will involve establishing your expectations and determining what steps need to be taken to exceed them. On-site consultations are free for prospective clients, which encompass the following: the scope of your project, your outdoor space's current state, your goals, wants, and needs, as well as your budget.
Please feel free to share measurements, notes, and photographs as well.
2. Design
We will help you achieve your vision through the help of our designers. Our design technology helps to easily create and modify mock-ups that will bring your vision to life and prepare us for the next steps. Any logistical considerations that were not covered during the consultation stage will also be incorporated into the designs.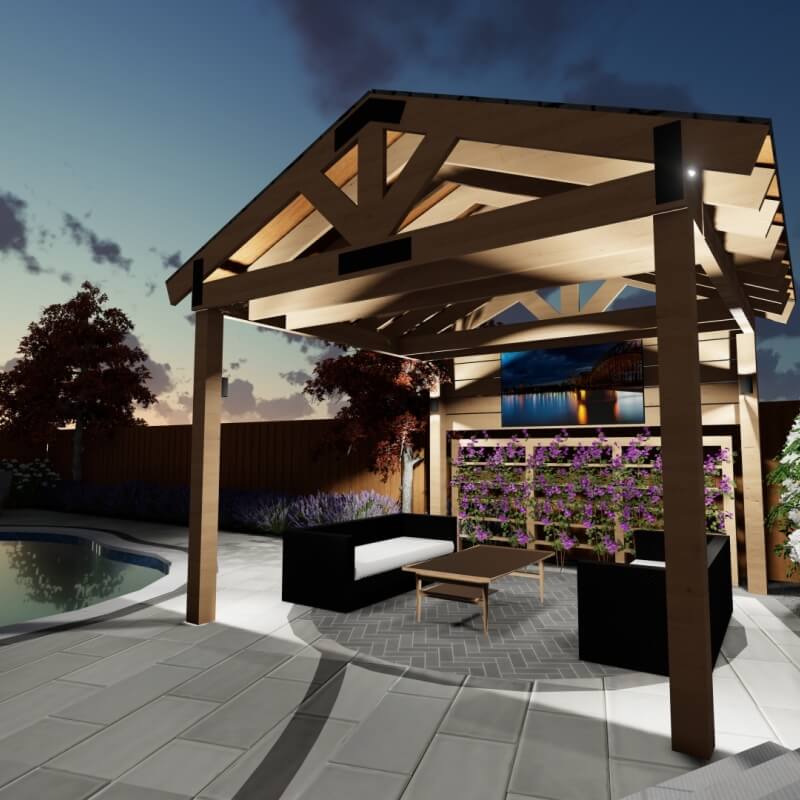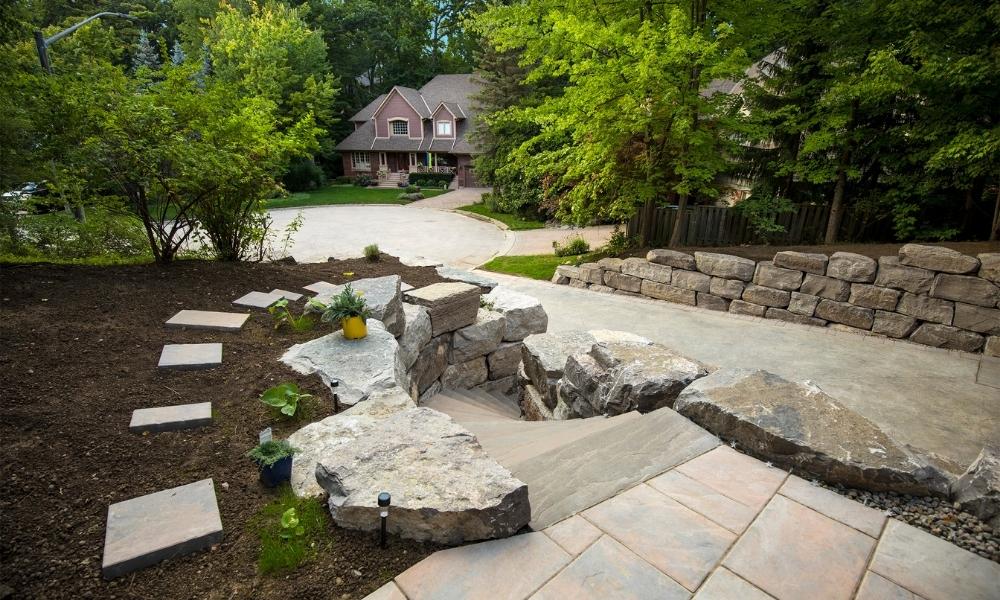 3. Estimate
After the final design is agreed upon, we discuss color options and materials in more detail. We will send an official estimate once these details have been settled.
4. Revisions
The permit application (if needed) will be completed once the official estimate and design have been approved. We are more than happy to provide guidance throughout this stage if required. A smooth, on-time, and budget-conscious project will benefit from this step.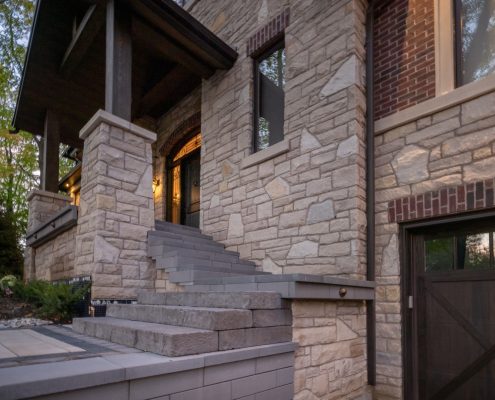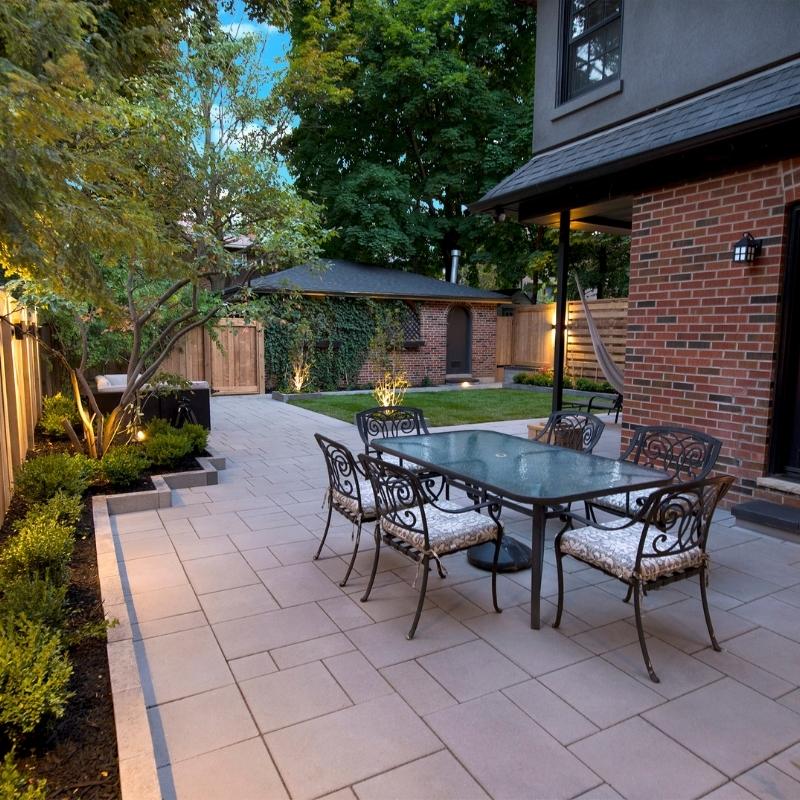 5. Construction
Our project manager and landscapers will remain in constant communication during construction. Keeping you informed throughout the process will ensure everything runs smoothly. Our goal is to complete your project correctly and on time, to your complete satisfaction.
Woodwork 
Decks, Fences, Pergolas, Gazebos, Cabanas
Maintain functionality and privacy while enhancing your outdoor entertaining space. Whether you are building your dream deck, fence, pergola, gazebo, or cabana, we have the materials and expertise to tackle any project you throw our way.
Create a flow throughout your backyard with woodwork customized to your needs. The installation of our outdoor pools complements our wood fences and decks beautifully; it is the perfect setting to entertain guests while maintaining privacy from neighbours. Provide your guests with everything they might need without having to go inside, by building a cabana or gazebo for comfortable transitions in and out of the pool.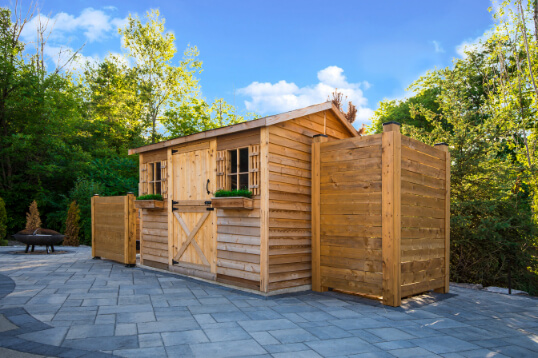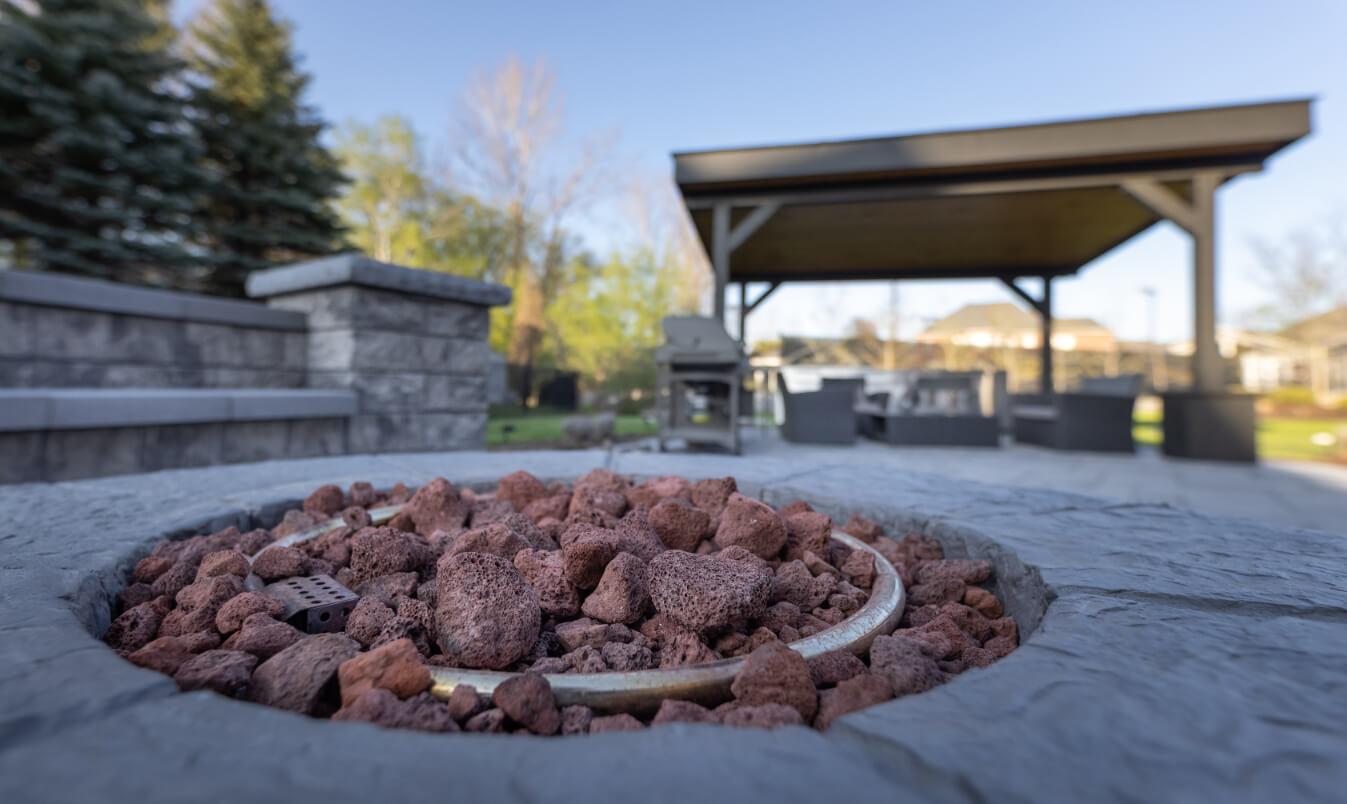 Stonework
Interlocking, Flagstone, Retaining Walls, Driveways
Make any part of your landscape stand out with our top-notch interlocking services. We would recommend interlocking as a safe, durable, cost-effective, and environmentally-friendly solution. Interlocking projects can easily be personalized to suit your individual home or design taste. As a leading team of interlocking experts, we've completed projects for driveways, patios, walkways, and steps for a variety of clients. We also offer flagstone and permeable driveway work in addition to interlocking repairs.
Pools
Building, Installation
Whether you're looking to upgrade your existing swimming pool or get a brand new one, we can do it all! Our designers would be happy to discuss your project with you to evaluate the size of your outdoor space, your vision, design details, and the steps we need to take to ensure a smooth implementation process. Our pool interlocking services are also available if you wish to complete your new outdoor paradise with a sleek, complete finish.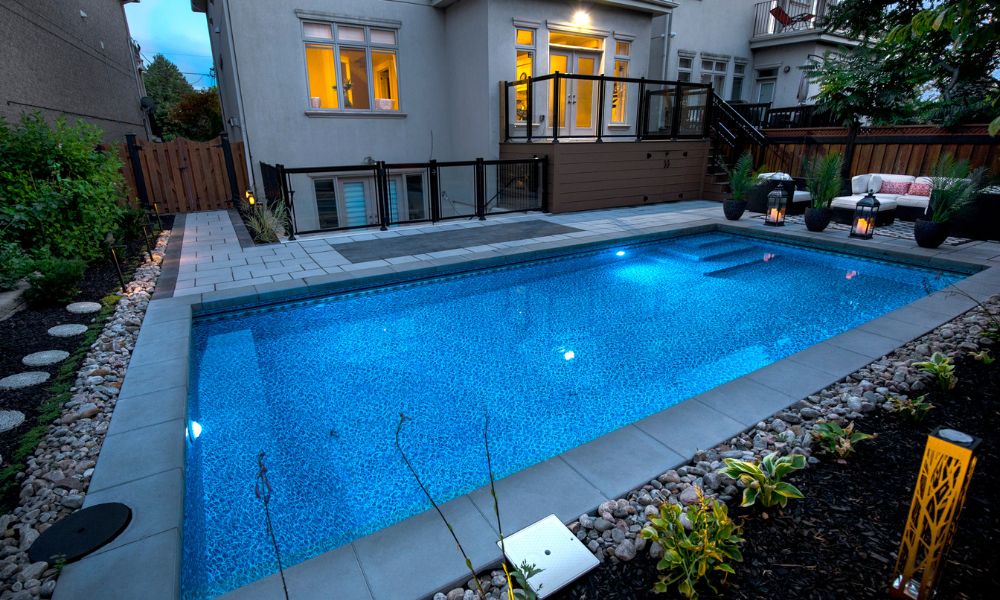 Satisfaction Guaranteed
We will deliver excellent results that exceed your expectations every time; satisfaction guaranteed. 

Quality
We provide quality results and customer service, so you can rest assured, you are being taken care of. 

Industry Professionals
With a combined 70+ years of experience, there is not a landscaping project we cannot take on.

Competitive Pricing
We offer fair and affordable pricing, to help make your decision simple.

The Right Tools For Every Job
We have the right, heavy-duty tools and equipment to take on any job.

Customer Support
Our support team is always available to answer questions and guide you through the process.
Frequently Asked Questions